International Nurses Day: A Vision for Future Health Care
11 May 2021
Happy International Nurses Day for 2021! Today we celebrate and thank all nurses and health care professionals working tirelessly across the world to keep the smile on all their patients faces. We are excited to see our dedicated CUC nursing students take up their own position within our community to make a positive impact on the future of healthcare.
This year the theme for International Nurses Day (IND) is a vision for future healthcare. On IND we reflect upon last year and the intense strain the global health crisis had on our healthcare professionals. In regional Australia nurses and healthcare practitioners are now in demand more than ever. It is predicted that regional areas will need more than 85,000 nurses, healthcare and social assistance professional by 2023.
It is inspiring to see that across our CUC network there are so many students going back to university to train to become a nurse and qualified health professional. As of the beginning of 2021, across our network, our top areas of study were Health, Psychology, Social Work and Community Service. Network-wide we have 28% of our entire CUC cohort of students studying health and 18% of our students studying Psychology, Social Work & Community Service. Most of our students are already positioned within local hospitals and healthcare services. We are proud of all of our healthcare students who have already helped so many people within our towns. Across our Centres, we have seen an increasing interest in healthcare degrees. CUC Far West had 35% of their student cohort studying health, 22% of students at CUC Western Riverina, 29% at CUC Goulburn, 16% at Snowy Monaro, 38% at CUC Clarence Valley and 24% at CUC North West.
It was also incredible to see that CUC Far West had 22 of their 2019-2020 students graduate from a variety of healthcare degrees. These degrees included Bachelor of Nursing, Bachelor of Social Work, Bachelor of Health Science (Aboriginal Mental Health), Graduate Diploma in Psychology, Bachelor of Psychological Science, Bachelor of Midwifery, Graduate Certificate in Primary Health Care, Graduate Certificate in Indigenous Health, Graduate Certificate in Health Promotion, Master of Disability Studies (Education), Graduate Certificate in Diabetes Education and Masters of Counselling.
Student Story
Meet Avril: Avril is one of CUC Far West's OG students having commenced her degree in a Bachelor of Nursing through the University of South Australia in 2018. CUCFW got to be a part of Av's journey and we are ecstatic to see her graduate class of 2020. We asked Avril to share her experiences as a regional online student.
'I chose my degree after having my children. Having to return to work as a working mum, I wanted to ensure it was doing something I enjoyed; I was looking for enjoyment and fulfilment in a career. Nursing and midwifery was always something I was interested in, as I wanted a rewarding career helping and caring.

There are challenges that all students face; as a regional student, they can be more complex, for me allocating uni time, to study full-time, was hard amongst my already busy life with two children and working 4 days a week. I was constantly being distracted whilst trying to learn at home by cooking tea, tidying and picking up after the kids or putting a load of washing. CUC was so crucial to my learning journey! It gave me a study space, allowing me to separate uni and home life, especially a quiet space away from the distractions at home (kids). This year I started my New Graduate year locally with the Far West Local Health Service. I am incredibly happy and proud to be starting my career in Broken Hill, my home town. I have four rotations that will build on my experience and knowledge in this graduate year. I will see where it takes me; nursing offers so many opportunities, and I am excited about my future.
The advice I would give to others in the Far West considering higher education would be DO IT! Back yourself! Anything is possible if you are willing to try and work for it, it can be very challenging but so rewarding. CUC is a fantastic facility and available to help you achieve this.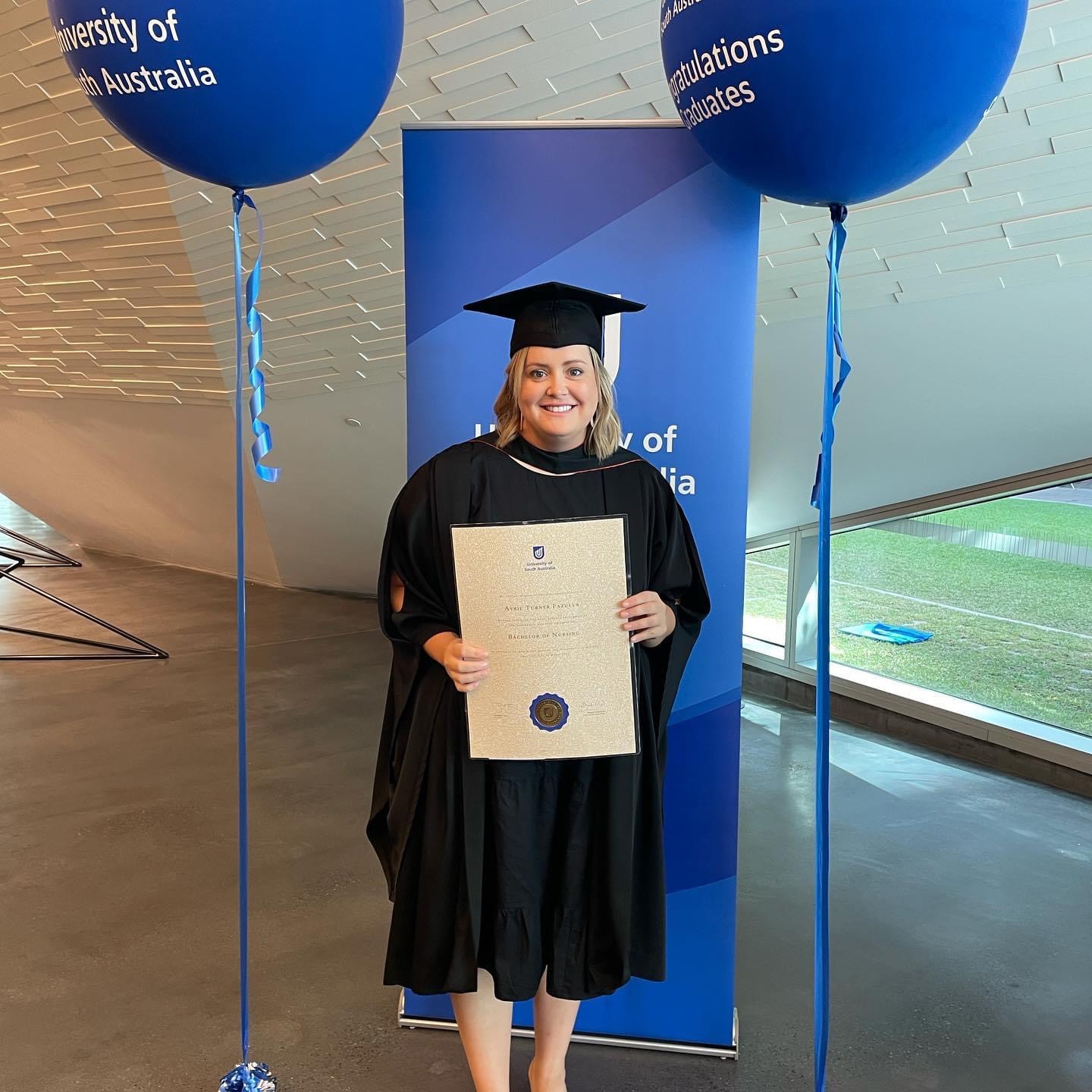 Did you know CUC has a specialised Nursing tutor for CSU Bachelor of Nursing students?
For more information about taking your next step in becoming a rural nurse please pop into one of our Centres to discuss what course is right for you. If you wish to explore more on the Bachelor of Nursing degree at CSU, please follow these links:
Want to register with CUC Far West? 
Registration is free and provides you with a quiet, dedicated space to study.